Save now on the TruckFlush kit and get Vita-D-Chlor™ for free*
The Pollardwater TruckFlush Diffuser is widely used by utilities across the country. The kit allows utilities to flush from the pumper port of hydrants and supports needed scouring velocities.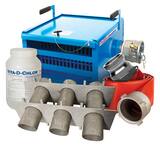 Purchase the Pollardwater TruckFlush kit and get 20 Vita-D-Chlor™ tablets for free. Kit includes TruckFlush, hose and dechlor kit.
Allows for high-velocity flushing to maximize scouring power of water mains
Connects to a 2" square receiver hitch
Flow Rate: Up to 2500 gpm
Dechlorinates potable water with Vita-D-Chlor™ tablets
4" Female Quick Connect
Comes with 15' Red Rubber Hose, 4-1/2" Female NST x 4" Male Quick Connect Coupling
Now $1,417.50 Was $1,575.00
Buy Now
*Offer valid through September 30, 2019. While supplies last.
About ProDeal
The Pollardwater Pro Deal is a bimonthly promotion of maintenance, repair and operations (MRO) related products for water and wastewater operators. Pro Deal provides special offers on seasonally-relevant products with the goal of providing municipal water and wastewater professionals with product solutions to get the job done right while saving on operating costs. Check back every other month for new Pro Deal promotions, or sign up for monthly emails with the latest Pro Deal special offers.